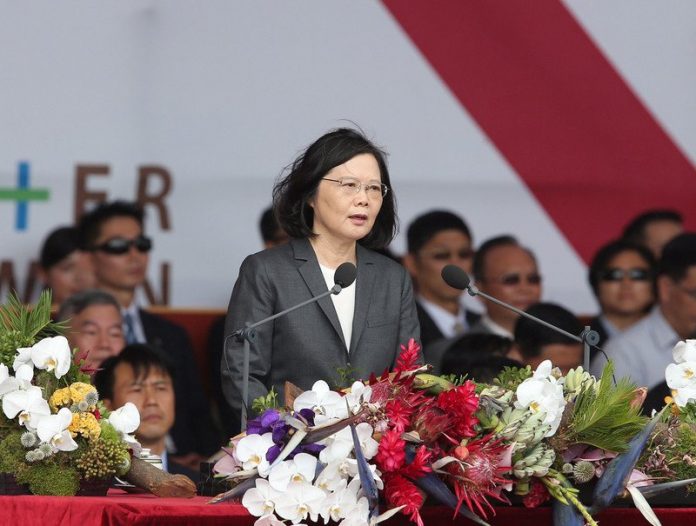 Voici une traduction (en version anglaise) du discours intégral de la Présidente Tsai lors de la fête nationale (10 octobre):
Mr. Su Jia-chyuan, Chairperson of the National Day celebration, distinguished guests, my fellow countrymen watching on television and online, good morning!
Today is the 106th National Day of the Republic of China. On behalf of the country, I want to thank our friends and overseas compatriots who have come from afar to join us in celebrating the ROC's birthday. Thank you.
This day belongs to Taiwan's 23 million people. We have representatives from all political parties, including Kuomintang Chairperson Wu Den-yih, People First Party Chairperson James Soong, New Power Party Chairperson Huang Kuo-chang, as well as Minkuotang Chairperson Hsu Hsin-ying.
We are able to gather here today on the birthday of the Republic of China, regardless of party affiliation or our political differences. This is the meaning of National Day.
The theme for this year's National Day celebration is « Better Taiwan. » I would like to take this opportunity to express my appreciation to the three popularly-elected former presidents, Lee Teng-hui, Chen Shui-bian, and Ma Ying-jeou.
Each of them represented a different period in Taiwan's pursuit of democracy and freedom. The governments they led left their respective legacies on the development of Taiwan. While there may have been differences in our views of the direction this country should take, I believe that the determination of each government to better Taiwan has always remained the same.
Since May 20 last year, the will of the people has given new momentum to the phrase « Better Taiwan. » Having been entrusted by the people, I have taken on full responsibility for this. I will do everything I can to make Taiwan better.
1. Fulfilling our commitments and accelerating reform
Over the past year, my administration has been hard at work making Taiwan better in three key aspects. They include fulfilling our commitments, pushing forward reforms, and providing a better life to the people.
We have spared no effort in transforming Taiwan's economy and industrial structure.
This includes working to resolve concerns over the « five shortages » (referring to land, electricity, water, labor, and talent) raised by our private sector. It also includes our « 5+2 industrial innovation program, » which is now entering its accelerated phase. This will speed up the upgrade and transformation of Taiwan's industries.
We are spearheading investments into infrastructure. Public investment under our Forward-looking Infrastructure Development Program will encourage further investment from the private sector.
All of this has led to growth in both the number and amount of investments from domestic and foreign firms. Meanwhile, we are also reforming the tax code.
We have been making steady progress to deliver on our commitments for social housing. Not only have the amendments to the Housing Act passed; as of today, there are over 30,000 social housing units planned or under construction across the country.
Another one of our commitments is « Long-term Care 2.0 Plan. » Already, 720 community and public-based care centers are operating. We expect this number to rapidly increase in the next three years so that everyone can receive care services close to home.
Our plan to enhance « Early Childhood Education and Care Service » is also moving forward. We will establish 1,000 public preschool classes within four years, increasing the percentage of public preschools by 10%. This will alleviate the burden of young parents, allowing them to pursue more options and opportunities.
Following countless discussions and complications, we also passed the civil service pension reform this summer. This will bring the pension fund back from the brink of bankruptcy and ensure its sustainability in the years to come.
We have also convened a « National Conference on Judicial Reform. » The Judicial Yuan and Ministry of Justice can begin the reform process with reference to the recommendations made during this conference. In the future, the government will have a biannual report to the people on the progress of this reform.
To ensure more public participation in the judicial process, the Judicial Yuan will accelerate the pace of reform, and submit a lay participation draft act by the end of the year. Meanwhile, we will enhance judicial oversight by refining the evaluation process for judges and prosecutors. This includes participation by more external members, increasing professionalism and impartiality. To further improve judicial efficiency, we will also make changes to the judicial process and court structure so that litigation can be handled in a more timely manner.
The people also care deeply about the problem of illicit drugs. Addressing this issue will be of the highest priority. We will coordinate resources across different ministries and local governments in order to use the power of the state to combat illicit drugs. This includes the mobilization of all relevant agencies to jointly engage in prevention, fighting abuse, enforcement, and treatment.
We will also engage in multinational cooperation on this issue. By cracking down on regional manufacturing and distribution networks starting from the source, we will keep these drugs from reaching our borders.
Since last year, with the cooperation of various agencies, we have already solved a number of large-scale drug smuggling cases. Following this, we will toughen sentencing through amendments to the Narcotics Hazard Prevention Act. At the same time, however, we will also provide more support to users, people recovering from drug abuse, and their families using the Drug Prevention Fund. This will allow them to quit drugs and solve one of the root causes of the problem.
We are a government that can resolve problems. My job is to overcome Taiwan's challenges, one by one. Regardless of how difficult reforms are, Premier Lai, his administrative team, and I will remain determined, and our commitments will not change. I believe as long as we can resolve problems one step at a time, we will start to see change. This will lead to a better Taiwan.
2. Safeguarding Taiwan's democracy and freedom
Today, on our National Day, we should remember that democracy and freedom are rights that only came following the joint efforts of all Taiwanese people. As a result, the government must make the utmost effort to safeguard Taiwan's values of democracy and freedom, as well as our way of life.
For 24 hours a day, 365 days a year, our brothers and sisters in uniform are standing at their posts, in defense of Taiwan.
Across air force bases, pilots are in full combat gear ready to take to the skies. On the blue seas, our navy and coast guard vessels are currently engaged in patrols. Our army personnel are engaged in routine exercises and standing guard, without a moment's relaxation. In situation rooms, hundreds of eyes are closely watching our neighboring waters and airspace for the slightest disturbance.
On the ROC's birthday, I want to thank all of our brothers and sisters in uniform. Each one of you guards the ROC's continued existence. All of you are staunch defenders of Taiwan's democracy, freedom, and way of life.
As Commander-in-Chief, I have taken on full responsibility for military reform.
We must strengthen our military capabilities. Faced with the growing demands of modern warfare, we must ensure that our new-generation military focuses not on quantity, but quality. We must be more prepared for growing threats in cybersecurity and espionage, as well as more capable of protecting our critical infrastructure. At the same time, the military must be able to carry out joint operations and effectively coordinate missions across different service branches. It must also strengthen its defensive capabilities and layered deterrence, in order to protect the safety of our 23 million people.
We must also raise our military morale. Over the past year, we have worked to upgrade personnel equipment, refurbish military housing, and refine our system of military conscription. We have enhanced the pay system to provide more bonuses. I trust that this commitment has been felt by all of our brothers and sisters in uniform.
We are also encouraging non-commissioned officers to engage in further study and refine their abilities so that their military specializations can carry over to their post-military careers. More importantly, we are closely studying the structures of other advanced countries, so that we can craft a new retirement system that rewards military retirees based on their length of service.
Meanwhile, as we strengthen our own self-defense, we know this requires that we create links with society. We will continue to build up our indigenous defense industry through technical exchanges. In the current phase, we are committed to building our own military jets and submarines, which, particularly for young engineers and researchers, will create many new job opportunities. I trust that a more robust defense industry will not only strengthen our military capabilities, but prove beneficial to our overall industrial development as well.
Although we are strengthening our military capabilities, we do not seek war. We remain committed to maintaining peace and stability both in the Taiwan Strait and across the region. Meanwhile, we will continue to safeguard Taiwan's freedom, democracy, and way of life, as well as ensure the Taiwanese people's right to decide our own future.
Cross-strait relations are an issue that affects Taiwan's future and the long-term welfare of our 23 million people. Since May 20 last year, we have exerted maximum goodwill in order to safeguard the peaceful and stable development of cross-strait relations. Although political differences between the two sides have led to some complications, we have nevertheless worked to maintain the basic stability of cross-strait relations.
As I have stated on many occasions: « Our goodwill will not change, our commitments will not change, we will not revert to the old path of confrontation, and we will not bow to pressure. » This has been my consistent position on cross-strait relations.
This year marks the 30th anniversary of cross-strait exchanges. Over the past 30 years, hostility between the two sides of the strait has been replaced by peaceful development. A new chapter has been written in cross-strait relations. Key to this was that both sides were able to put aside political differences in order to be pragmatic and realistic. In the course of exchanges and interactions, both sides accumulated goodwill and established new interactions and ways of thinking.
We should treasure these hard-fought results and the accumulated goodwill from the past 30 years. On this existing basis, we hope for more breakthroughs in the cross-strait relationship.
This year also marks the 30th anniversary of Taiwan allowing familial visits to the mainland. Even today, footage of family members reuniting for the first time continues to be emotional. In 2011, Taiwan also opened up to students from the mainland. Since then, young people from both sides of the strait have started to live, study, and think together. In this process, they started to gradually understand the differences in each other's backgrounds. They have started to develop mutual understanding, so that they can work together to build a more prosperous and peaceful world.
As we face new circumstances in cross-strait and regional relations, leaders from both sides should together work to display the political wisdom that has carried us through over the years. We should search for new modes of cross-strait interactions with determination and patience. This will lay a more solid basis for long-term peace and stability in the cross-strait relationship.
3. Finding Taiwan's place in the new international order
Further to our commitments and our determination to safeguard Taiwan's democracy and freedom, realizing a better Taiwan also requires us to find Taiwan's place in the new international order. This is the third point the government will engage in.
Today, as we are joined by friends from all over the world, I want to reemphasize that we are peace-loving people. We have the willingness and ability to make more meaningful contributions to the international community.
Taiwan plays an irreplaceable role in the peace, stability, and prosperity of the Asia-Pacific. Based on our shared commitment to democracy and freedom, we have engaged in close cooperation with like-minded countries.
At the same time, we are promoting the « New Southbound Policy » to forge closer relations and links with our neighbors in the region. Compared to the last year, our trade with New Southbound countries has grown almost 20%. This is a result everyone can see.
Under this policy, we are working to encourage talent exchanges. The number of overseas students currently studying in technical programs here is rapidly increasing. With their multinational experiences, these students will be a driving force in promoting regional prosperity in the future.
We are also encouraging greater industrial cooperation. The Ministry of Economic Affairs has established investment windows in Vietnam, the Philippines, Indonesia, Myanmar, Thailand, and India to support investment in both directions.
We are also providing overseas credit guarantees for small and medium-sized enterprises seeking to invest in Southeast Asia. Working together, companies in Taiwan and New Southbound countries can apply their respective advantages to create mutually beneficial industrial links.
The purpose of the « New Southbound Policy » is for us to hold a more advantageous position in international society.
I also want to use this opportunity to tell our friends from around the world that faced with a rapidly changing Asia-Pacific region, Taiwan is ready to play a more important role in shaping regional prosperity and stability.
This year, we have created a new platform for working with Southeast Asian countries to fight the dengue epidemic. Furthermore, we are establishing Taiping Island as a center for humanitarian assistance in the region. On Dongsha (Pratas) Island, we are building a station to monitor greenhouse gas emissions. This soft power is a source of pride for the Taiwanese people and a force for stability, peace, and prosperity in the region.
In addition to cooperation with New Southbound countries, we also hope that through participation in international organizations, Taiwan can play a more proactive role in international society.
We have ratified both the International Covenant on Civil and Political Rights and the International Covenant on Economic, Social and Cultural Rights. We have also completed Taiwan's first ever voluntary national review of the United Nations Sustainable Development Goals.
We are also promoting Taiwan's ODA (Official Development Assistance) to support our diplomatic allies and New Southbound countries in financing infrastructure and major development projects. This will also enable both Taiwan's private sector and government to become more globalized.
Traditional security issues continue to be a challenge for the international community. But in addition, we are also facing growing non-traditional threats from climate change, resource scarcity, communicable diseases, and terrorism from around the world. These are common challenges facing every country.
In response, major democracies from around the world are adjusting their foreign policies. They are bringing forward ways to « merge traditional and non-traditional issues » and « consolidate government and civil society forces. » Taiwan is responding to these international trends by placing humanitarianism at the center of our security perspective.
This is the meaning behind the Yushan Forum, which will be held tomorrow. We want to place Taiwan at the forefront of promoting innovation and progressive values across the Asia-Pacific.
As we welcome official and non-official participation from every country, we look forward to discussions on regional development, environmental protection, medicine and health, religious freedom, free markets, and multiculturalism. All of this will create a more sustainable environment for innovation in Taiwan and the world.
I want to also use this opportunity to express my sincere gratitude to leaders and representatives from Taiwan's diplomatic allies. On behalf of our 23 million people, thank you. Our foreign policy is guided by the belief in « Steadfast Diplomacy and Mutual Assistance for Mutual Benefits. » As diplomatic allies, we support one another and overcome challenges together. Thank you for speaking out for Taiwan on the international stage. Please trust that Taiwan will always remain your most committed friend and ally, both now and in the future.
My fellow countrymen, Taiwan is strong when we are united. This was demonstrated during the Summer Universiade this year. We cheered on the winning athletes, cried with the defeated athletes, and rejoiced together when Taiwan was seen by the world.
These shared emotions come because we live on this land together, we share living experiences, we share sentiments, and we must shoulder a shared future.
To the representatives from all the political parties here today, I look forward to exchanging opinions on constitutional reform with you. The issues I spoke about today, domestic reforms, safeguarding our democracy and freedom, and finding our place in international society – all also require that Taiwan come together. I hereby formally invite the leaders of our political parties to meet to discuss issues of concern. As long as we are united, we can show the world the pride we take in our democracy, freedom, and prosperity.
In closing, I would like to extend my gratitude to a special Taiwanese. Father Kan Hui-chung led the singing of the national anthem today and has dedicated decades of his life serving Taiwan. After giving light and love to Taiwan, he has officially become an ROC citizen. On behalf of the people of Taiwan, thank you.
Please take care of your health. Rest assured that Taiwan will continue to embrace the world with open arms.
Taiwan will become better. We will become great because of our democracy. We will become great because of our freedom. We will become great because of our unity. Once more, thank you to the people of Taiwan. We will become better together. Thank you all.